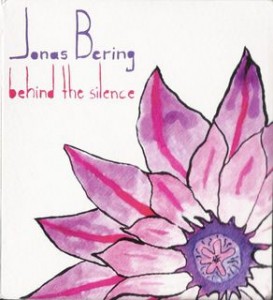 Jonas Bering, weer een naam die ik veel te laat leer kennen als ik naar dit album luister. Maar dat zegt vooral wat over mij, want iemand die toch al weer zijn zoveelste release uitbrengt op Kompakt is geen kleine jongen meer. En Kompakt staat wat mij betreft altijd voor kwaliteit – niet per definitie mijn smaak – maar de muziek is altijd superieur van kwaliteit… niet onbelangrijk bij electronische muziek.
Maar terug naar het album. Behind The Silence is een album dat duidelijk zijn oorsprong kent in de techno, maar inmiddels wel gemengd is met zoveel invloeden uit andere stromingen dat het etiket techno eigenlijk weinig zegt. Het is vooral fijne chillmuziek, absoluut geen dancefloorfiller, alhoewel sommige nummers in de aanvang of het einde van de avond echt niet zullen misstaan. 
De vier toppers van het album zijn wat mij betreft Melanie, Behind the Silence, Close to Home en Before Sunset. Minder vind ik het uitstapje met de vocals in het nummer I Can't Stop Loving You, wat overigens een van de weinige nummers is van het album die wel als 12″ is uitgebracht. Smaken verschillen zullen we maar denken. Het album gaat bij mij in ieder geval de komende weken mee in de MP3-speler en het zou me niet verbazen als dit een album is dat je steeds meer gaat waarderen naarmate je het vaker hoort. Keep you informed!